Roger
Rochat
Professor
Faculty, Global Health
Jointly Appointed, Epidemiology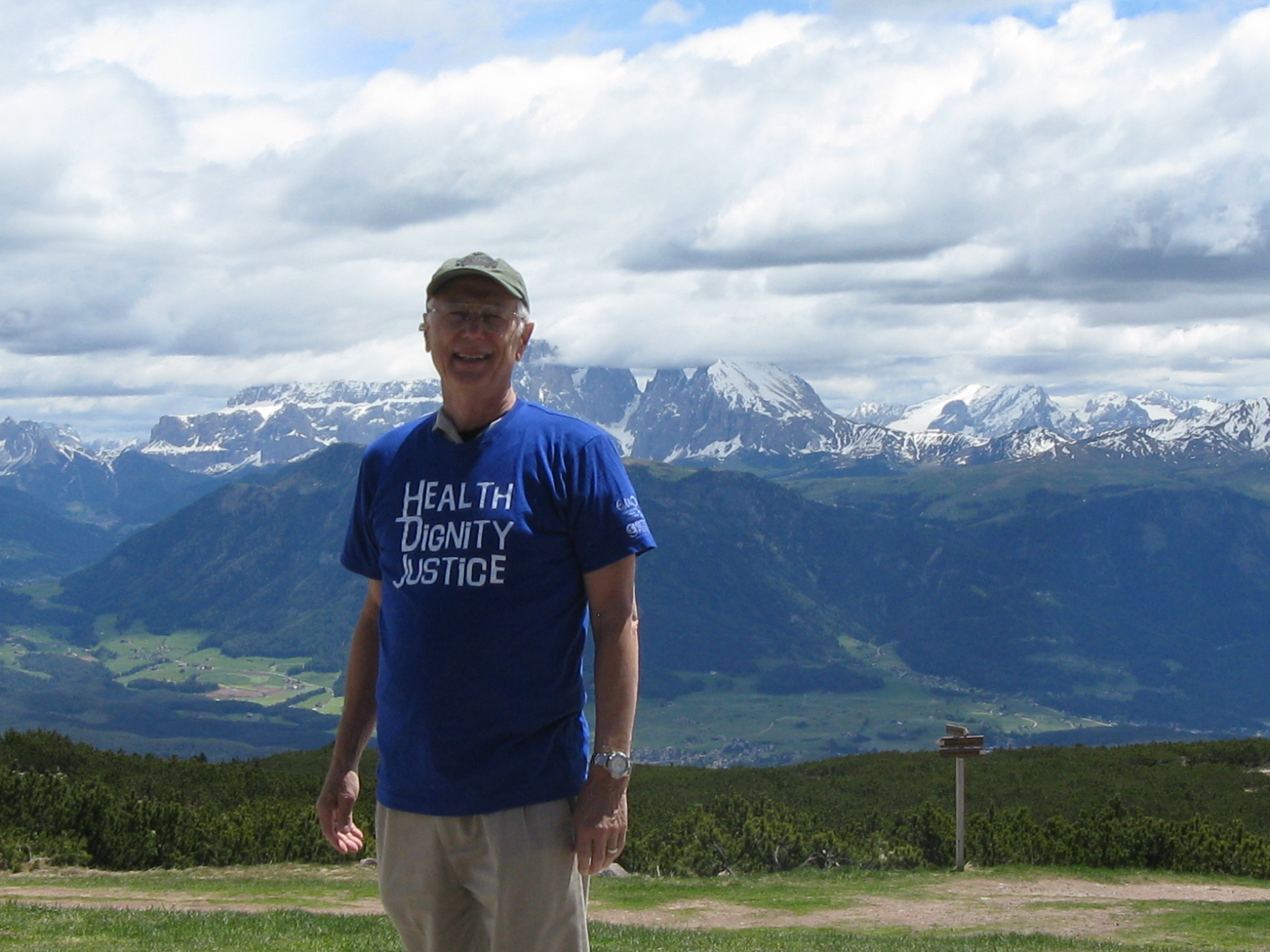 During my fourth year of medical school in Seattle in 1965, I received an LSU tropical medicine fellowship to study at the Children's Hospital in San Jose, Costa Rica. Enroute to San Jose, I hitchhiked to New Orleans via Baltimore and Atlanta, stopping at medical centers to interview for internships.

After my residency at Charity Hospital in New Orleans, I joined CDC's EIS program, as Oregon's first EIS officer. That fall I went to East Pakistan to conduct the first field trial of oral therapy for cholera. Exposures to intense problems associated with rapid population growth, poverty, and crowding led me to change my career.

I transferred to CDC's Family Planning Evaluation Activity and to the Georgia Health Department. One of my first tasks was to determine whether the 1968 Georgia law legalizing abortion would reduce maternal mortality. Because of continuing unequal access to services, it would not. A lawyer cited this social inequity in Doe v. Bolton, the Supreme Court case from Georgia that was decided concurrently with Roe V. Wade.

Two years later, CDC supported my studying demography at Princeton. I returned to CDC, spent a year in the CDC Director's Office of Program Planning and Evaluation supporting medical care for Tuskegee survivors, then returned to the Family Planning Evaluation Division.

With CDC's major reorganization in 1980-81, I became the first Director of the Division of Reproductive Health. In 1985, CDC assigned me to Emory to develop the Global Health Track, and in 1987 to USAID, New Delhi for two years—in charge of Population, Health and Nutrition. When I returned from India, I spent six years developing Maternal and Child Health epidemiology in the Georgia Health Department.

After 30 years with CDC working in 40+ countries and with most State Health Departments, I retired from CDC in 1999—went with my brother briefly to Antarctica—and then joined RSPH, the first two years in Epidemiology and now in Global Health. I served as Director of Graduate Studies from 2003-2016 and since August 2016, I serve as Coordinator, Humphrey Fellowship Program.

HONORS:

March 1978 - PHS Commendation Medal in recognition of sustained high quality work performance in the development of the international family planning evaluation assistance programs.

September 1981 - CDC Letter of Commendation for contribution to the U.S.-Mexico Border Survey conducted during the period June-Sept 1979 in 51 selected counties in four border states of Texas, NM, AZ, and CA, of maternal and child health planning on the U.S. side of the border.

Oct 1990 - Georgia March of Dimes for producing Infant Health in Georgia: Progress during the 1980s--a collaborative report by Georgia March of Dimes, Georgia Department of Human Resources, and Centers for Disease Control and Prevention

Nov 1990 - CDC Commendation Medal for outstanding work and development of activities to reduce infant mortality and to assist states in conducting analytic projects, and to evaluate their infant mortality problems.

1992 - CDC Meritorious Service Medal for sustained significant contributions to the development of activities to prevent and control morbidity and mortality among infants and women of reproductive age.

1993 - Recipient, Carl Schultz (Population and Reproductive Health) Award, APHA

1996 - Georgia March of Dimes - For contributions to statewide prevalence study of perinatal exposure to cocaine-- a collaborative study by Georgia March of Dimes, Georgia Department of Human Resources, and the Centers for Disease Control and Prevention

1999 - MCH Coalition Award for Lifetime Achievement in MCH epidemiology

2001-2002 Rollins School of Public Health, Student Government 'Professor of the Year'

2004- Ipas In Appreciation "for your distinguished career in public service, research, teaching, and advocacy; for your visionary leadership in advancing maternal and child health, family planning, and women's access to safe abortion care in the United States and globally; for your mentorship and support of students and young professionals in reproductive health; for your outstanding scholarly contributions over three decades in contraception, abortion, postabortion care and the epidemiology of maternal and child health. We do hereby honor and thank you for your unwavering support for women's reproductive health and rights around the world."

May 2009-The Thomas F. Sellers, Jr. Award "For exemplifying the ideals of public health and serving as a role model and mentor to his colleagues. This award is given to an individual who, like the man for whom it is named, represents the best qualities of collegiality."

May 2012 Emory Williams Distinguished Teaching Award, Emory University

Sept 2016 Zena Stein and Mervyn Susser Award for Lifetime Achievement, 2016 National MCH Epidemiology Awards for Contributing Substantially to the Advancement of the Field of MCH Epidemiology with Significant and Lasting Impact. Awarded by the Coalition for Excellence in MCH Epidemiology

Sept 18 2013 Global Health Faculty Seminar:
Annual GEMMA Evening 2015: https://rsph.hosted.panopto.com/Panopto/Pages/Embed.aspx?id=ebef1b73-0c02-4e53-9433-52e45bd05554
Annual GEMMA Evening 2019: https://rsph.hosted.panopto.com/Panopto/Pages/Viewer.aspx?id=fa260b22-0096-416d-bfac-aae9017ada76
Sept 4, 2019 Global Health Faculty Seminar https://echo360.org/media/d5d92367-3e56-443c-8b8d-3a1454f6a15d/public
Sept 17, 2019 GH Seminar & seminar with midwifery students: https://rsph.hosted.panopto.com/Panopto/Pages/Viewer.aspx?id=13980393-ad32-440d-9e9b-aadc015603e6
Public Health Aspects of Abortion: A Lifetime Journey ...
www.youtube.com › watch › v=giMoAt5If-U
The UIC Center of Excellence in Maternal and Child Health ... Health Aspects of Abortion: A Lifetime Journey ...
http://giving.emory.edu/gemma/
https://sway.office.com/X3djbBg2FEAaKSd2?ref=Link
View Resume
Areas of Interest
Ecology, Demography and Environmental Sciences
Maternal and Child Health
Program Management
Reproductive Health
Sexual Health/Behavior
Social Epidemiology
Education
MD 1966, University of Washington
Courses Taught
GH 541: Tech Of Fertility Control
GH 539: Reproduct Health Program Mgmt.
GH 530: Maternal Mortality - Abortion
GH 595H: Humphrey Fellow Practicum
Affiliations & Activities
Coordinator, Humphrey Fellowship Program, 2016-
Faculty advisor 1. Emory Reproductive Health Association (ERHA); 2. Emory Global Health Organization (EGHO); 3. Georgia Maternal Infant Health Research Group (GMIHRG).
2015 Co-organizer Psychosocial Workshop, San Diego CA
Publications
Kelli Stidham Hall, Hartwig, Sara Redd; Subasri Narasimhan; Elizabeth A Mosley; Emily Lemon; Erin Berry; Haddad, Lisa; Eva Lathrop ; Roger Rochat; Carrie Cwiak

,

2020

,

Abortion Trends in Georgia following Enactment of the 22-Week Gestational Age Limit, 2007 to 2017

,

AJPH

, 110,

1034-1038

Rachel Shapiro, Blake Erhardt-Ohren, Roger Rochat

,

2020

,

Comparison of Women from Georgia and Contiguous States Who Obtained Abortions in Georgia, 1994-2016

,

Maternal and Child Health Journal

, ,

Newton-Levinson, Anna, Megan Higdon, Jessica Sales, Laurie Gaydos, Roger Rochat

,

2020

,

Context Matters: using mixed methods to provide an accessible and integrated visual for qualitative and quantitative data

,

Evaluation and Program Planning

, 80(C),

Katherine M. Yount, Yuk Fai Cheong, Stephanie S. Miedema, et al

,

2020

,

Gender equality in Global health Leadership

,

Global Public Health

, 15,

852-864

Erhardt-Ohren, B., Schroffel, H. & Rochat, R

,

2020

,

Integrated Family Planning and Routine Child Immunization Services in Benin: A Process Evaluation

,

Matern Child Health J

, 24,

701-708

Baker, H., Rochat, R., Hepburn, K., Hennink, M., Thiam, M., Guede, C., Amegan, E., Fombo, K., Ogunbiyi, B., & Sibley, L

,

2019

,

"Give what the people want": A situational analysis of condom distribution and a feasibility study of user-friendly condoms in Cape Town, South Africa

,

Journal of the Association of Nurses in AIDS Care

, 29,

887-901

Swanson, Jennifer M., Monique M. Hennink, Roger W. Rochat

,

2019

,

"I have no choice": Influences on Contraceptive Use and Abortion among women in the Democratic Republic of the Congo

,

African Journal of Reproductive Health

, 23,

128-138

Luffy, Samantha M; Evans, Dabney P; Rochat, Roger

,

2019

,

"Regardless, you are not the first woman": A case study of missed opportunities to protect sexual and reproductive health and rights.

,

BMC Women's Health

, 19,

Boudreau, Courtney L., Howard Kress, Roger W. Rochat, Kathryn M. Yount

,

2018

,

Correlates of Disclosure of Sexual Violence among Kenyan Youth

,

Child Abuse and Neglect

, 79,

164-172

Evelyn Howatt, Roger Rochat, Deborah McFarland, Carlos Del Rio

,

2017

,

From Albania to Zimbabwe: Ten years surveying Global Health Field Experiences at the Rollins School of Public Health

,

Global Health Science and Practice Journal

, 5,

468-475

Almaghaslah Eman, Roger Rochat, Ghada N. Farhat

,

2017

,

Validation of A Pregnancy Planning Measure for Arabic-Speaking Women,

,

PLOSOne

, 12,

10

Fink L., Stanhope K., Rochat R., Bernal O.

,

2016

,

"The Fetus is my patient, too": Attitudes toward abortion and referral among physician conscientious objectors in Bogota, Colombia

,

International Perspectives on Sexual and Reproductive Health

, 42,

71-80

Adrienne D. Zertuche, Bridget Spelke, Zoe Julian, Meredith Pinto, Roger Rochat

,

2016

,

Georgia Maternal and Infant Health Research Group (GMIHRG): Mobilizing Allied Health Students and Community Partners to Put Data into Action

,

Maternal and Child Health Journal

, 20,

Wijesooriya, N. Saman, Rochat Roger W, Kamb Mary L., Turlapati Prasad, Temmerman Marleen, Broutet Natalie, Newman Lori M

,

2016

,

Global burden of maternal and congenital syphilis in 2008 and 20112: a health systems modeling study

,

Global Lancet

, 4,

e525-e533

Bridget Spelke, Adrienne Zertuche, Zoe Julian, Roger Rochat,

,

2016

,

Obstetric Provider Maldistribution-Georgia 2011

,

Maternal and Child Health Journal

, ,

Luffy SM, Evans DP, Rochat RW

,

2015

,

"Siempre me critican": barriers to reproductive health in Ocotal, Nicaragua

,

Rev Panam Salud Publica

, 37,

245-50

DeSisto, Carla L., Jill McDonald, Roger Rochat, Beatriz A. Diaz-Apodaca, Eugene DeClercq

,

2014

,

Decision-making about method of delivery on the U.S.-Mexico border

,

Health Care for Women International

, ,

Lathrop Eva, Roger Rochat

,

2013

,

The GEMMA Seminar: A graduate public health course on Global Elimination of Maternal Mortality from Abortion

,

Contraception

, ,

Diaz-Olavarrieta, Claudia, Sandra G Garcia, Angelica Arangure, Vanessa Cravioto, Aremis Villalobos, Roula AbiSamra, Roger Rochat, Davida Becker

,

2012

,

Women's Experiences of and perspectives on abortion at public facilities in Mexico City three years following decriminalization

,

International Journal of Gynecology and Obstetrics

, 118,

S15-S20

Omer Saad B, David Goodman, Mark C. Steinhoff, Roger Rochat, Keith P Klugman, Barbara J Stoll, Usha Ramakrishnan

,

2011

,

Maternal Influenza Immunization and Reduced Likelihood of Prematurity and Small for Gestational Age Births: A Retrospective Cohort Study

,

PLOS Medicine

, ,

Lasswell S, Barfield W, Rochat R, Blackmon, L

,

2010

,

Perinatal Regionalization for Very Low Birth Weight Infants: A Meta-Analysis of Three Decades of Evidence

,

JAMA; 304(9):992-1000

, ,

Rochat RW

,

2008

,

The Challenges of Conducting Research to improve the Health of American Indians and Alaska Natives

,

Matern Child Health J. Suppl 1:126-7.

, ,

Santelli, J., and Rochat, R.W., et al. (Unintended Pregnancy Working Group)

,

2003

,

Reconceiving unintended pregnancy

,

Perspectives on Sexual and Reproductive Health

, 34(2),