Kathleen
Miner
Professor
Professor Emeritus, Behavioral Sciences/Health Ed.
Professor Emeritus, Executive MPH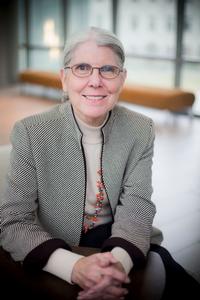 Kathy is a tenured professor in Behavioral Sciences and Health Education and Associate Dean for Applied Public Health and serves as the principal investigator for the R-IV PHTC. She is a leader, manager and educator in the public health field for over 35 years during which time she has been the PI on training grants in excess of $48 million. She is the Associate Dean for Applied Public Health and reports directly to the dean of the school. She has status in the dean's office equal to all other associate deans and participates in the executive leadership decisions in the school. Kathy has been instrumental in the development of numerous professional competencies sets and is a recognized expert in competency-based adult education development and delivery. She is an active member of both local and national professional associations, including GASOPHE, National SOPHE, GPHA, and APHA. She took the lead on funding and being one of the guest editors on the special issue of Health Promotion Practice dedicated to the work of the PHTCs.
View Resume
Areas of Interest
Public Health Practice
Public Health Preparedness and Response
Rural Health
Publications
Massoudi, B.L., Goodman, K.W., Gotham I.J., Homels, J.H., Lang, L., Miner, K.R., Potenxiani, D.D., Richards, J., Fu, P.C.

,

2012

,

An informatics agenda for public health: summarized recommendations from the 2011 AMIA PHI conference.

,

Journal of the American Medical Informatics Association

, ,

Apatu, E.J., Alperin, M., Miner, K.R., Wilijer D.

,

2011

,

A drive through Web 2.0: an exploration of driving safety promotion on Facebook

,

Health Promotion Practice

, ,

Freedman, A.M., Miner, K.R., Echt, K.V., Parker, R., Cooper, H.L.F.

,

2011

,

Amplifying diffusion of health information in low literate populations through adult education health literacy classes.

,

Journal of Health Communication

, 16,

119-133

Koo, D., Miner, K.R.

,

2010

,

Outcome-based workforce development and education in public health

,

Annual Review of Public Health

, 31,

253-269

Potter, M.A., Miner, K.R., et al.

,

2010

,

The evidence base for public health preparedness training: a retrospective analysis.

,

Public Health Reports

, 125 S5,

15-23

Niemeyer, D., Miner, K.R., Carlson, L.M., Baer, K., and Shorty, L.

,

2004

,

The 1998 master settlement agreement: a public health opportunity realized-or lost?

,

Health Promotion Practice. Supplement

, 5S(3),

21S-32S

Niemeyer, D.R., Miner, K.R., Carlson, L.M., and Hinman, J.

,

2003

,

Building capacity for success: tobacco technical assistance consortium

,

Health Promotion Practice

, 4(3),

206-209

Cioffi, J., Lichtveld, M., Thielen, L., and Miner, K.R.

,

2003

,

Credentialing the public health workforce: an idea whose time has come

,

Journal of Health Management and Practice

, 9(6),

451-458

Miner, K., Childers, W., Alerpin, M.m, Cioffi, J., and Hunt, N.

, ,

The MACH Model: linking workforce and instructional competencies to professional preparation and practice

,

Public Health Reports

, under review,

under review