Juan Pablo
Peña-Rosas
Adjunct Assistant Professor
Adjunct or Visiting, Global Health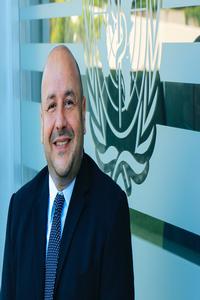 JP Peña-Rosas is Coordinator, Evidence and Programme Guidance, Department of Nutrition for Health and Development at the World Health Organization (WHO) in Geneva, Switzerland. He joined WHO on July 2008 and oversees the development of evidence-informed guidelines for interventions addressing the double burden of malnutrition in infants, children, adolescents, women and old persons in stable and emergency settings, including their implementation; and biomarkers of nutritional status in individuals and populations.
Additionally, he is Adjunct Assistant Professor at Emory University Rollins School of Public Health in Atlanta, United States since 2011.
Prior to WHO, Juan Pablo worked as Specialist at the Centers for Disease Control and Prevention (CDC) in Atlanta, United States and was involved in planning, implementing, and reporting of nutrition and health surveys, and public health programmes monitoring and evaluation in Uzbekistan, Morocco, Egypt, Peru, Nicaragua, Georgia and Dominican Republic.
In the private sector, Dr. Peña-Rosas worked at the Kellogg Company, Latin America and the Caribbean Headquarters where he served as Manager of Nutrition Communications and Public Relations, Manager of Nutrition and Scientific Affairs and Manager of Scientific and Regulatory Affairs for the regional operations and its 8th subsidiaries. He was a member of the food norms and standards commission Venezuela in CAVIDEA.
He received his Medical Degree from Universidad Central de Venezuela in his native country and a Masters Degree in Public Health Nutrition from University of Puerto Rico. He holds a PhD in Human Nutrition and Epidemiology from Cornell University, Ithaca, NY. A member of the American Society for Nutrition, Latin American Society of Nutrition, the American Evaluation Association, Cochrane, Grading of Recommendations Assessment, Development and Evaluation (GRADE) working group and the WHO Guidelines Review Committee 2010-2012.
Specialties: public health, maternal and child health, nutrition, monitoring and evaluation, epidemiology, research
Areas of Interest
Epidemiology
Global Health
Maternal and Child Health
Public Health Policy
Research Methods
Affiliations & Activities
The Society for Implementation Science in Nutrition, Founding member, 2015-present
Grading of Recommendations Assessment, Development and Evaluation (GRADE) Working Group, member, 2011-present
Latin American Society of Nutrition (SLAN), member, 1991-present
Publications
García-Casal MN, Peña-Rosas JP, Gomez Malavé H.

,

2016

,

Sauces, spices, and condiments: definitions, potential benefits, consumption patterns, and global markets

,

Annals of the New York Academy of Sciences

, ,

Garcia-Casal MN, Peña-Rosas JP, Pachón H, De-Regil LM, Centeno Tablante E, Flores-Urrutia MC

,

2016

,

Staple crops biofortified with increased micronutrient content: effects on vitamin and mineral status, as well as health and cognitive function in the general population

,

Cochrane Database of Systematic Reviews

, ,