V. Ramana
Dhara
Adjunct Associate Professor
Adjunct or Visiting, Environmental Health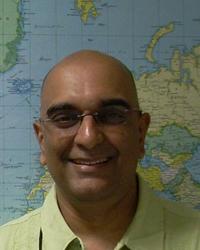 I am an occupational/environmental medicine physician board-certified by the American Board of Preventive Medicine in Occupational Medicine and the American Board of Independent Medical Examiners.
As a member of the International Medical Commission on Bhopal disaster, I have designed and published the first long-term health effects studies on the exposed community. My work on exposure assessment in the gas victims is being used as a teaching tool in environmental epidemiology. My international experience includes evaluation of hazardous industries in India. My work at CDC/ATSDR has involved evaluation of communities exposed to hazardous agents.
In clinical practice, I have many years of experience in the area of workmens' compensation and non-surgical orthopedics. In 2005, I served as physician to the CNN news team covering the aftermath of Hurricane Katrina in New Orleans and in 2018 worked on a medical mission with the Migrant Caravan consisting of refugees from Central America. I am the former Medical Director of the Occupational Health Clinics, Centers for Disease Control & Prevention, Atlanta, GA.
View Resume
Areas of Interest
Community Based Research
Environmental Health
Epidemiology
Global Health
Occupational Health
Toxicology
Affiliations & Activities
American College of Occupational & Environmental Medicine
Morehouse School of Medicine, Atlanta, GA, USA
Indian Institute of Public Health, Hyderabad, India
Publications
Acquilla SD, Bertell R, Dhara VR, Tognoni G.

,

2005

,

The Bhopal Disaster aftermath: 10 & 20 years after

,

Journal of Loss Prevention in the Process Industries

, 18,

268-273

Dhara VR, Dhara R, Cullinan P, Acquilla SD. .

,

2002

,

Personal exposure and long-term health effects in survivors of the Union Carbide disaster in Bhopal

,

Environmental Health Perspectives

, 110(5),

487-500

Dhara, V.R. & Dhara, R.

,

2002

,

The Union Carbide disaster in Bhopal: A Review of Health Effects

,

Arch Environ Health

, 57(5),

1-10

Cullinan P, Dhara VR, Acquilla SD.

,

1997

,

Respiratory Morbidity 10 years after the Union Carbide Gas Leak at Bhopal

,

British Medical Journal

, 314,

338-343

Hall, H.I., Dhara, V.R., Kaye, W.E., & Price-Green, P.

,

1994

,

Surveillance of Hazardous Substance Releases and Related Health Effects

,

Arch Environ Hlth.

, 49(1),

45-48

Dhara, V.R., & Kriebel, D.

,

1993

,

An Exposure-response method for assessing the long-term health effects of the Bhopal gas disaster

,

Disasters

, 17(4),

281-289

Dhara, V.R., & Kriebel, D.

,

1993

,

The Bhopal Gas Disaster: Its Not Too Late for Sound Epidemiology

,

Arch Environ Hlth.

, 48(6),

436-437

Dhara, V.R.

,

1992

,

On the Bioavailability of Methyl Isocyanate in the Bhopal Gas Leak

,

Arch Environ Health

, 47(5),

385-386